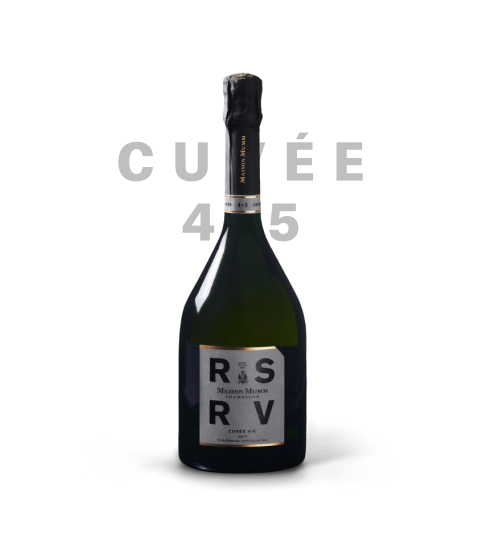 RSRV Cuvee 4.5, the essence of five historic terroirs
A name evocative of a secret for a champagne with a coded name. The number four represents four years of aging in the Maison Mumm cellars. The number five signifies the Maison's five historic terroirs that are all Grand Cru classified.
Terroirs & origins
The RSRV 4.5 champagne is a tribute to the prestige and diversity of five Grand Cru terroirs acquired by the Maison beginning in 1840: Pinot Noir from Verzenay, Aÿ and Bouzy, and Chardonnays from Cramant and Avize. After four years of aging in cellars, an aromatic sculpture is unveiled.
GRAPE VARIETY
60% Pinot Noir Grand Cru
40% Chardonnay Grand Cru
VINEYARD
Verzenay
Aÿ
Bouzy
Cramant
Avize
GRAPE HARVEST
–
Everything is well balanced: the fresh and fruity aromas of Verzenay Pinot Noir, the power and vinosity of Pinot Noirs from Aÿ and Bouzy, followed by the delicate citrus notes of Cramant Chardonnay that are revitalized by Avize Chardonnay. It is a tribute to the richness of Maison's terroirs. Initially, each vineyard is distinctive. Their grapes are pressed and vinified separately. These exceptional wines are then blended and orchestrated by the Cellar Master, by his experience and intuition, he transforms the blend into a signature champagne, an ideal chemistry that unites style and aromas equally.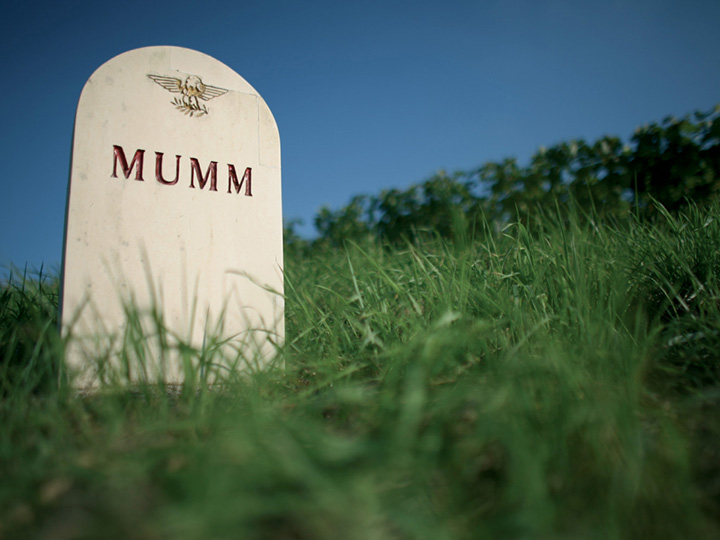 Tasting Notes
"An elegant wine, with a harmonious complexity, which emanates power, freshness and richness."
Maison Mumm's Cellar Master
COLOR
Delicately golden brown
Light yellow sprinkled with golden reflections. A fine and delicate effervescence.
NOSE
Crunchy richness
Fresh notes of yellow and white fruits gradually give way to aromas of fruit marmalade, honey, nougat and vanilla. This rich and complex nose is completed with a hint of roasting and mocha.
PALATE
Harmonious roundness
An attack that's frank and lively that progressively evolves around a beautiful roundness.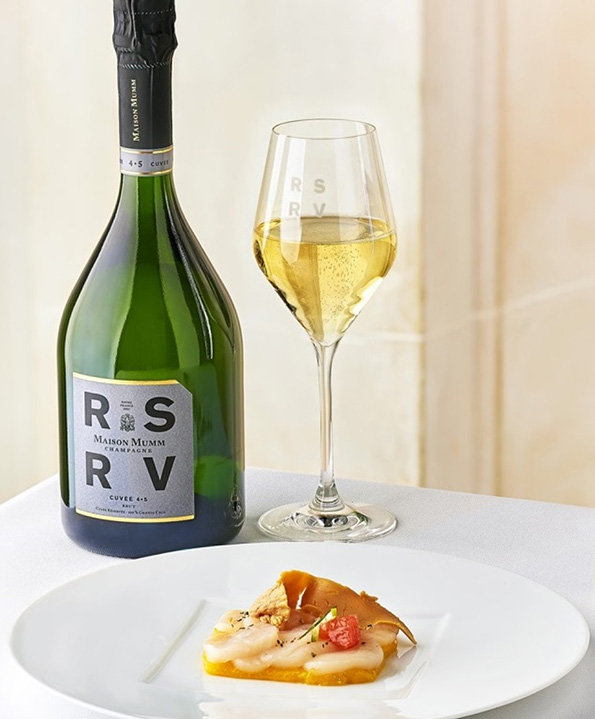 Tasting & pairings
Serve as an aperitif when the palate is clean and ready to discover complex and rich aromas.
TEMPÉRATURE DE SERVICE
Between 8° and 10° C
STORAGE ADVICE
–
FOR PAIRINGS WITH
Flounder with a creamy sauce
Lamb with girolle mushrooms
Its elegance blends perfectly with flavourful dishes and it is able to match their aromatic complexity.
Vinification
The wines that make up the RSRV 4.5 champagne age in carefully selected oak barrels so that they benefit from the slow process of micro-oxygenation. They were elaborated this way so that they develop woody notes with subtle aromas of vanilla.
COLOR
White
VINTAGE
–
DOSAGE
Brut
AGING
A minimum of four years in the Maison's cellars
CELLARING POTENTIAL
–